We are thrilled at the overwhelming response of the Charlotte Hindu community since the grand opening of the Trimurti Temple.   Since then, we have had more than a couple of hundred devotees show up regularly  for Saturday and Monday abhishekams, Prodasham, Satyanarayana pujas and other regular services.  
All of us who attended and participated in the ceremonies have been delighted by the interior of the temple, the layout, the beautiful murthies and the wonderful alankarams (decorations) created by our Priest Shri Manivannan.  
While this is a fantastic beginning and a dream come true for many in our community, we do have a number of things we still have to do in order to  maintain our momentum and develop this as a valuable asset for our families and our children.    
We are starting a campaign to give you a specific opportunity to help establish the temple, support the environment and highlight your legacy of support in a very memorable and lasting way.  
We were fortunate to obtain the occupancy permit from the city just in time for (literally days before) the temple opening.  However, the permit from the city was conditional on our commitment to plant more than 400 trees on the property during the planting season this November.    The city is very specific about the kind of trees as well as other specifications, such as height, trunk width, location, etc., so we will be planting hardwoods such as birch, maple and oak.  These trees will last 80 years on longer!
Meeting these specifications is going to cost at least $ 300 per tree.  By contributing to this "Adopt a Tree for Trimurti" program, you can help us raise the money to plant these trees by the November deadline and keep the temple open.   You may donate any amount, but if you donate $ 301 or more, you and your family will be recognized with a personal plaque at the base of a tree, as a permanent acknowledgement of your timely support at a crucial time in the early development of the temple. You contribution is tax-deductible.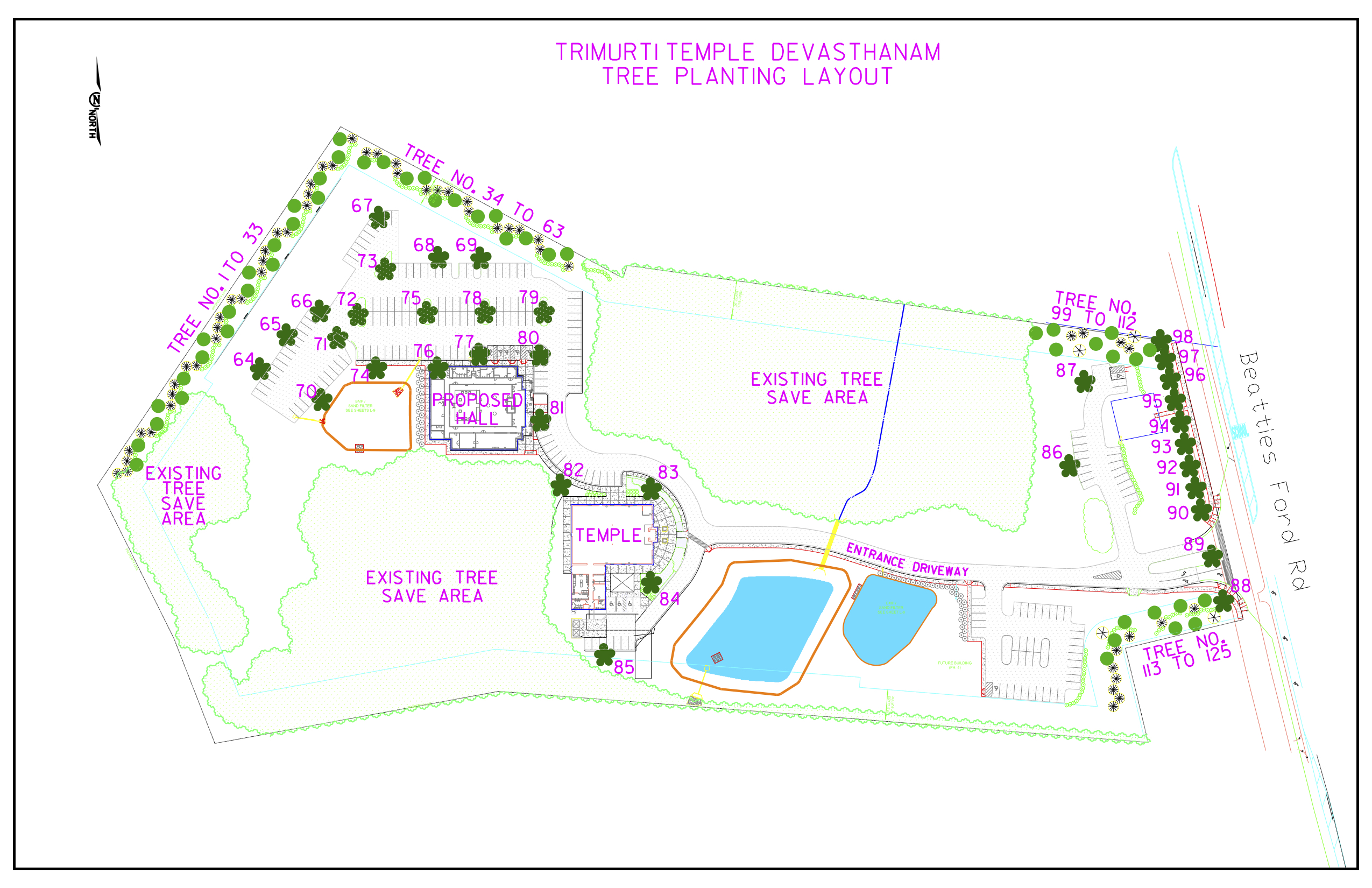 You can pick your spot for your tree(s) and signup for the available spots. The spot numbers are designated in the above tree planting layout.